Founded in 2012, CIC Media, is a unique global media firm dedicated to generating content innovation experiences and solutions.
Operation Highlights
CIC's operation relies on a flexible cost-efficient structure formed by 60+ professionals across 4 key cities: Miami, London, Mexico City and Caracas. CIC Media is capable of offering services globally with creative network of associates and strategic allies in Canada, Spain, Germany, Portugal, Argentina, Colombia and Brazil.
CIC spans across 3 key lines of businesses: Content Innovations (fiction, non fiction,multiplatform, all day parts), production services and consulting. The operation is based on the methodology created by Marlon Quintero, MD of CIC Media, and expressed in his book Innovation for Media Content Creation.
Track Record
CIC Media produced the ten-part series "Disruptive Nature" for Off The Fence and "Timeline of the Century" for Cineflix/A&E International. We also launched Pluto TV channel with "Oh My Pet" and have wrapped on a second season of the factual docuseries "Deadly Disasters" for BBC UK. Our ten-part series "Secret Wars Uncovered" and "Race to Victory" were made for History UK and we have new projects with new broadcasters currently in pre-production. Overall CIC has created over 500 hours of content for both Global and Latinx audiences.
Founded By Marlon Quintero
Marlon Quintero is an Emmy nominated producer with over 25 years of experience and has developed several innovative and creative processes. He has led the development and production of more than 4,500 hours of television programming globally.
Currently, Quintero is the Managing Director of CIC Media (Center for Innovation and Creativity in Media). The company has offices in London, Miami, Mexico and Caracas, and was founded to provide content solutions for the entertainment industry. Marlon has produced projects for BBC Studios, History Channel in the UK, Televisa Networks, Univision, Sony Entertainment Television and countless others. In 2014, he led the implementation of an innovation lab for Televisa International, where he acted as chief creative officer of the Global Entertainment Formats Operation.
In his career, Quintero has held leadership positions at Univision and Sony Pictures Television where he achieved a high level of success. In these roles he implemented innovation techniques in content development, and led many international non-scripted and scripted productions. He has worked for clients such as Warner Brothers, Zodiak, Hola TV, Sony Music, and Universo, and is also credited with producing innovative content for MTV, Nickelodeon, Televisa, Telemundo, Venevision and Televen.
Marlon Quintero is an industrial engineer with a Master of Arts (with honors) in Television Production from San Francisco State University and an MBA with studies focused on Entertainment, Marketing and International Business from the Marshall School of Business at the University of Southern California. In 2015, after publishing his book: Innovation for Media Content Creation, he launched the training initiative Innovation MCC. As part of this initiative, Quintero presented multiple seminars and workshops in Miami, San Francisco, Los Angeles, London, Mexico and Caracas.
Our Team
We have more than 60 people across our offices working with clients, creating and producing innovative initiatives.
Our combined experience creates a safe playground for the development and production of non-scripted and scripted projects.
We have had the chance to work with traditional (TV) and non traditional (Brands) clients, thus developing outstanding expertise in the creation of tailored short and long form content.
Our team is one of the best in the industry working with archive footage and preparing some of the best documentary series currently being produced in the market.
Our international nature has also made us versatile and creative in the cross-pollination of ideas and processes across our global operation, opening up countless possibilities. We could write in the UK, produce in Miami, edit in Mexico, and master in Caracas.
We are able to deliver the best content in both English and Spanish.
Our team is responsible for the more than 40 initiatives in our catalogue, including digital, fiction, entertainment formats and documentary series, ready to hit the market.
We have produced more than 350 hours of TV content.
Leading Our Operation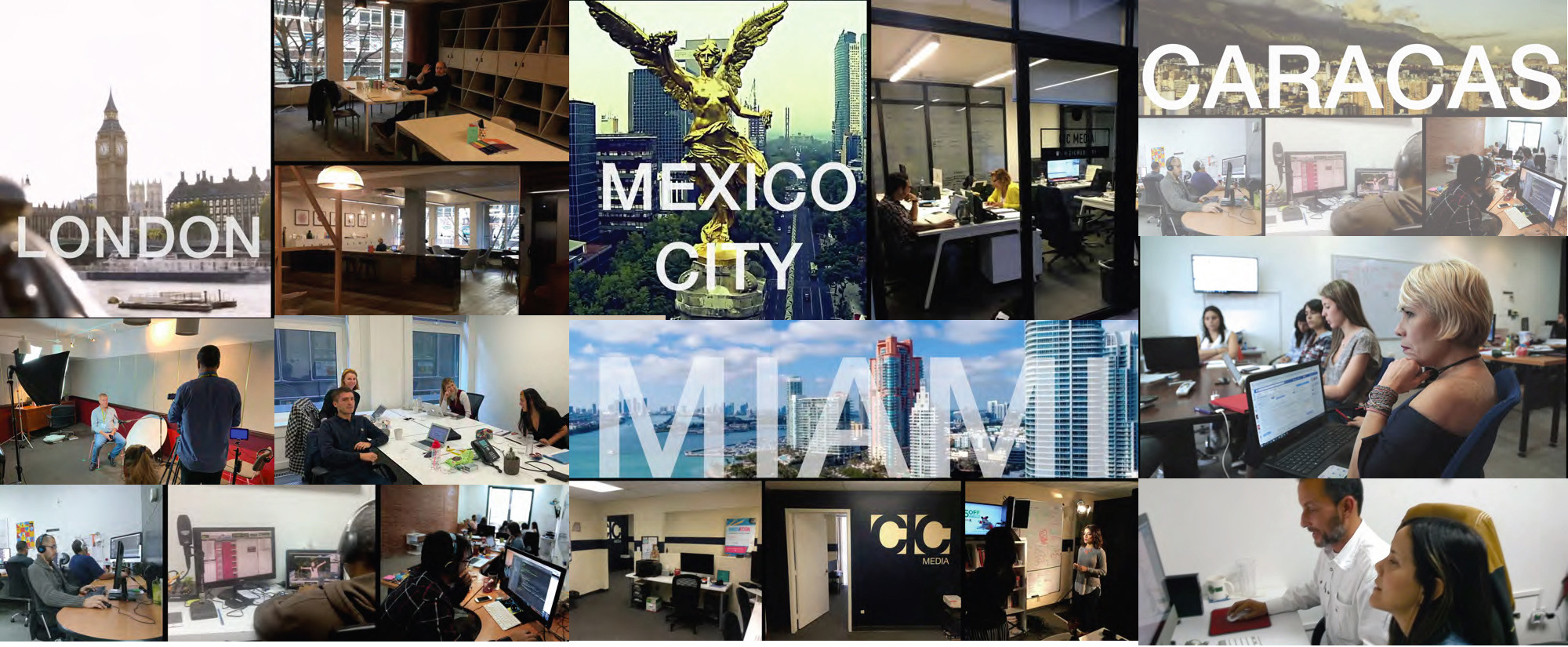 Our Team