Founded in 2012 by Marlon Quintero, CIC Media is a unique global media firm dedicated to generating content innovation experiences and solutions.
Ventajas Competitivas
Our operation relies on a flexible cost-efficient structure formed by 60+ professionals working with clients, creating and producing innovative initiatives across 4 key territories: UK, US and Latin America. CIC Media is capable of offering services globally with a creative network of associates and strategic allies internationally.
Our combined experience creates a safe playground for the development and production of non-scripted and scripted projects. We have had the chance to work with traditional (TV) and non traditional (Brands) clients, thus developing outstanding expertise in the creation of tailored short and long form content. In 2022 CIC Media earned an EMMY nomination in the best travel series category for "Uncharted Adventure", produced for the Weather Channel in the US. Among its other clients, CIC has produced content for BBC, Sky HistoryUK, Off The Fence, Cineflix, Passion, Beyond, History US, A&E International, Warner Media, Viacom, Univision, NBC Universal, Sony Entertainment Television, etc.
Our team is one of the best in the industry working with archive footage and preparing some of the best documentary series currently being produced in the market. The international nature of CIC Media has also made us versatile and creative in the cross-pollination of ideas and processes across our global operation, opening up countless possibilities. Our team is responsible for the more than 40 initiatives in our catalogue, including digital, fiction, entertainment formats and documentary series, ready to hit the market. To date, we have produced more than 350 hours of high quality TV content.
Historial
CIC Media produced the ten-part series "Disruptive Nature" for Off The Fence y "Timeline of the Century" for Cineflix/A&E International. We also launched Pluto TV channel with "Oh My Pet" and have wrapped on a second season of the factual docuseries "Deadly Disasters" for BBC UK. Our ten-part series "Secret Wars Uncovered" y "Race to Victory" were made for History UK and we have new projects with new broadcasters currently in pre-production. Overall CIC has created over 500 hours of content for both Global and Latinx audiences.
Fundada por Marlon Quintero
Marlon Quintero es un productor nominado al Emmy con más de 25 años de experiencia y ha desarrollado varios procesos innovadores y creativos. Ha liderado el desarrollo y la producción de más de 4.500 horas de programación televisiva a nivel mundial.
Actualmente, Quintero es el Director General de CIC Media (Center for Innovation and Creativity in Media). The company has offices in London, Miami, Mexico and Caracas, and was founded to provide content solutions for the entertainment industry. Marlon has produced projects for BBC Studios, History Channel en el Reino Unido, Televisa Networks, Univision, Sony Entertainment Television and countless others. In 2014, he led the implementation of an innovation lab for Televisa International, where he acted as chief creative officer of the Global Entertainment Formats Operation.
In his career, Quintero has held leadership positions at Univision and Sony Pictures Television where he achieved a high level of success. In these roles he implemented innovation techniques in content development, and led many international non-scripted and scripted productions. He has worked for clients such as Warner Brothers, Zodiak, Hola TV, Sony Music, y Universo, and is also credited with producing innovative content for MTV, Nickelodeon, Televisa, Telemundo, Venevision y Televen.
Marlon Quintero es un ingeniero industrial con una maestría (con honores) en Producción de Televisión de la Universidad Estatal de San Francisco y una maestría en Administración de Empresas con estudios centrados en Entretenimiento, Mercadeo y Negocios Internacionales de la Escuela de Negocios Marshall de la Universidad del Sur de California. En 2015, después de publicar su libro: Innovación para la Creación de Contenido de Medios de Comunicación, lanzó la iniciativa de formación Innovation MCC. Como parte de esta iniciativa, Quintero presentó múltiples seminarios y talleres en Miami, San Francisco, Los Ángeles, Londres, México y Caracas.
Nuestro Equipo
Tenemos más de 60 personas en nuestras oficinas trabajando con los clientes, creando y produciendo iniciativas innovadoras.
Nuestra experiencia combinada crea un terreno de juego seguro para el desarrollo y la producción de proyectos con y sin guion.
Hemos tenido la oportunidad de trabajar con clientes tradicionales (TV) y no tradicionales (Marcas), desarrollando así una experiencia sobresaliente en la creación de contenidos adaptados de forma corta y larga.
Nuestro equipo es uno de los mejores de la industria que trabaja con material de archivo y prepara algunas de las mejores series documentales que se producen actualmente en el mercado.
Nuestro carácter internacional también nos ha hecho versátiles y creativos en la polinización cruzada de ideas y procesos en toda nuestra operación global, abriendo innumerables posibilidades. Podríamos escribir en el Reino Unido, producir en Miami, editar en México y masterizar en Caracas.
Somos capaces de entregar el mejor contenido tanto en inglés como en español.
Nuestro equipo es responsable de las más de 40 iniciativas de nuestro catálogo, incluyendo digital, ficción, formatos de entretenimiento y series documentales, listas para salir al mercado.
Hemos producido más de 350 horas de contenido televisivo.
Liderando nuestra operación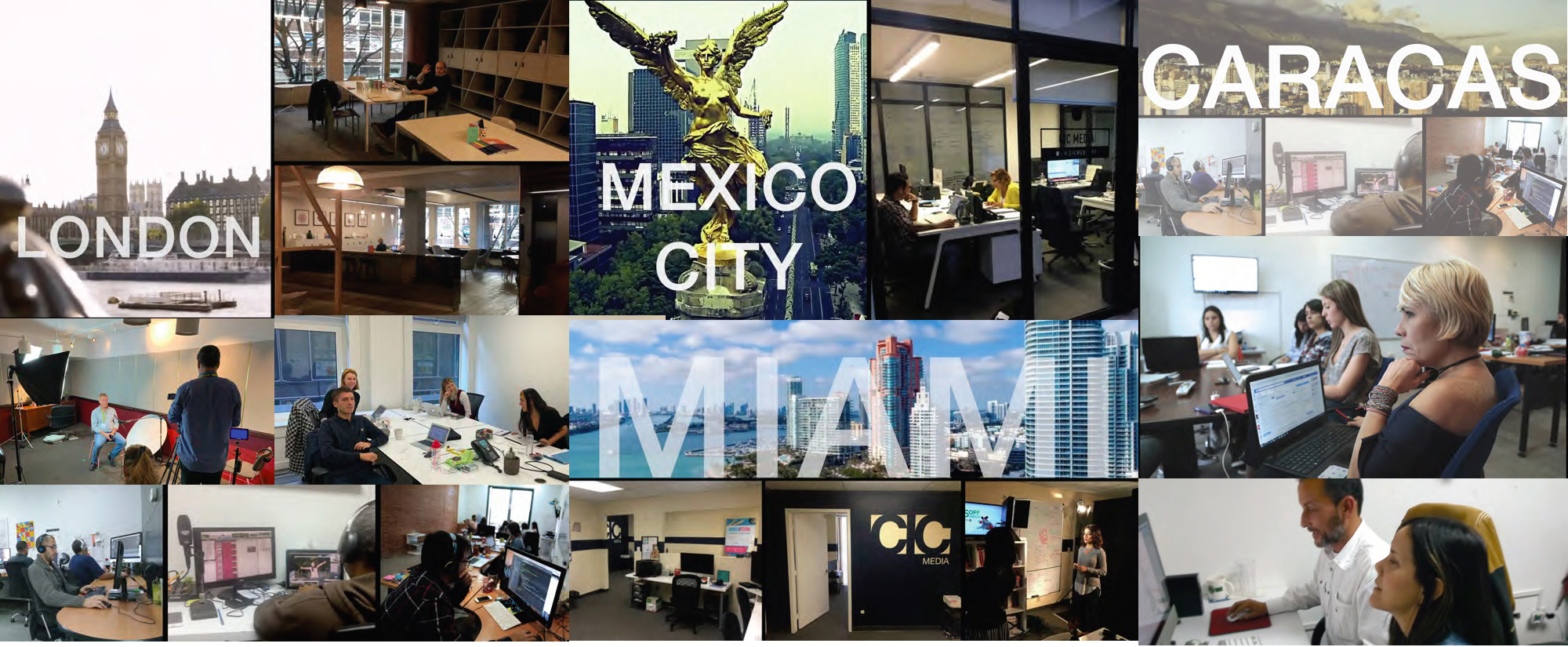 Nuestro Equipo